Saxy's, a new global transitional sleepwear fashion line, launches its online retail store with a launch party sale.
Saxy's, a new transitional sleepwear fashion line, launches its online retail
store
with a 30 percent off sale, valid for U.S. customers from Nov. 9 – 18. "Forget everything you know about traditional sleepwear. Saxy's is a new sleepwear line that fuses the comfort of pajamas and the sex appeal of lingerie," said Saxony Kearney, founder and CEO of Saxy's.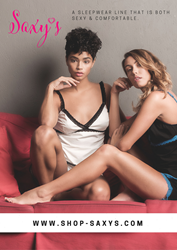 Saxy's Sleepwear Fashion Line
For years, women have had to sacrifice comfort when choosing stylish sleepwear. Those days are long gone! With Saxy's sleepwear line, women can achieve true style and coziness.
Saxy's collection includes four different styles, available in three different colors. "I personally designed every piece of this collection from scratch, so I am extremely proud to introduce it to the world. Whether a woman is a size zero or a size 12, whether she's in Plainesville or Paris, there are options for everyone," said Mrs. Kearney, who holds an MBA and is the brand's Creative Director.
Saxy's isn't another standard pajama line—each set is designed to transition from night to day, ultimately resonating with every woman's sense of style. "For years, women have had to sacrifice comfort when choosing stylish sleepwear," says Kearney. "Those days are long gone! No more boring pajamas, and no more uncomfortable sexy lingerie. I want women to look beautiful and feel relaxed in my sleepwear."
Pajamas have become an increasingly popular daytime fashion trend among top celebrities. "During the design process this past year, it's been exciting to see celebrities like Selena Gomez, Heidi Klum, and Rihanna rocking their transitional pajamas out in the streets," Kearney said. "Saxy's is here to take this trend to the next level and make it a mainstream staple in fashion. Our brand caters to women who want the best of both worlds."
Saxy's sleepwear assortments include a chemise, pajama short set, caged top and pant set, and a traditional pajama pant set. A built-in shelf bra is provided for bust support and each set is available in several vibrant colors and designs. Each set is made of cotton with lace accents, ultimately achieving the perfect level of sexy comfort. Kearny claims, "Unlike many mainstream pajama lines, Saxy's was thoughtfully designed from a woman's perspective, for women of varied shapes, ethnicities, ages and backgrounds. I hope this collection empowers women to revel in their femininity and confidence. I'm a firm believer that women shouldn't have to compromise style for comfort."
Saxy's sleepwear is available for purchase on Shop-Saxys.com and ships globally. Standard retail prices start at $49. In honor of the launch of Saxy's online retail store, the company is giving U.S. based customers 30 percent off their first Saxy's pajama set and complimentary shipping with promo code "Launch." The launch party 30 percent off sale is valid from Nov. 9 – 18.
ABOUT SAXY'S
Saxy's is a global sleepwear fashion line based out of Atlanta, Georgia, redefining sexy comfort. Saxy's offers a versatile collection of sleepwear that can be worn at any time, night or day. Saxony Kearney is the founder, CEO and Creative Director of Saxy's. Customers can purchase their Saxy's sleepwear at http://www.shop-saxys.com. Follow Saxy's on Instagram, Twitter and Facebook for company news, sale promotions and more.